Thousands of Access Points Installed!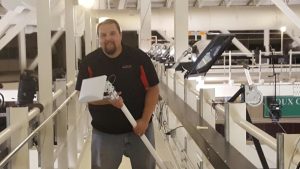 Networking Specialists, a Ruckus Wireless Big Dog Authorized Partner,  is a highly experienced leader in wireless networking. From School Districts to Stadiums to manufacturing floors and outdoor spaces, we've installed it
Networking Specialists – Experienced Wi-Fi Network Design and Installation
Want to ensure that your wireless network will meet your needs? We can arrange for an extensive site survey. Our site survey will help determine the proper placement of access points and design your wireless network to meet the needs of your business.
Networking Specialists will help!
Your business can benefit from our secure wireless networking solutions that meet stringent compliance standards like PCI DSS and HIPAA.
Maximum coverage and capacity with high quality equipment
Secured with multi-level authentication to keep intruders out
Guest portals for safe, secure access by guests
Where Do We Install Wireless Networks?
Networking Specialists has experience installing a variety of wireless networking solutions across a variety of industries.
Small and Medium Business Offices
Stadiums and Event Centers
School Systems including K-12
Manufacturing floors with robotics
Mobile Construction Sites
Outdoor spaces for Public Wi-Fi
Wireless Hotspots in Businesses and Airports
Restaurant/Retail Solutions with a built-in advertising engine
Wireless Bridges to connect multiple sites over the air
Don't waste your time on cheap consumer-grade equipment.  We're experts in installing and maintaining advanced high-performance wireless networks.
Get stellar Wi-Fi for YOUR business! Call us now at (701) 746-9234  or send an email to info@gfnetspec.com