How are you keeping you and your employees safe while doing business online?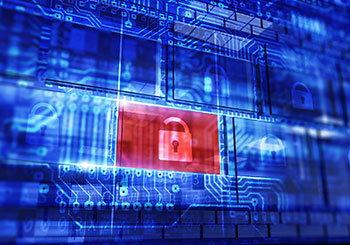 Networking Specialists offers I.T. Security Solutions to protect your business against ever-evolving security threats.
Your Business Faces a Wide-Range of Security Threats, from Email Spam to Hacking Attacks and Everything in Between.
In fact, cyber crime is becoming more and more sophisticated each day. 87% of businesses are the target of cyber crime each year. And your business simply can't afford to take risks.
These days, hackers, attackers, and even automated web bots are all trying to gain access to your network and ultimately access your private customer and business information. When successful, the attackers can lock down your data or worse they can release your customer information to the world
Our certified I.T. security experts Use a Multi-Layered Approach to Combat Security Threats and Protect Your Business
We cover all the bases, including your network, I.T. systems, and data, to protect against viruses, hackers, spam, phishing attacks, and various other forms of malware. Our certified I.T. security experts will consult with you to recommend an I.T. security solution that is customized for your unique needs and budget.
You can rest assured knowing your business is protected with:
Application Whitelist Policies

 to ensure only safe applications can run

Data Encryption

 to comply with regulations and protect data from wandering eyes
Anti-Virus, Malware, Spyware and Ransomware protection and management

Patch management

 to keep operating systems and 3rdparty applications up to date

Email Protection

 to prevent spam and viruses from reaching your network or your inbox.

Intrusion Protection

 using sophisticated detection and prevention rules applied to your network, which is monitored and maintained to ensure compliance with regulatory requirements.

Wireless Information Security

 to determine and implement the most secure wireless setup for your business.

Vulnerability Analysis

 to pinpoint the weak spots in your network through regular vulnerability analyses

Regulatory Compliance

 including HIPAA and PCI DSS
Employee Education so they know how to avoid infections
Dark Web Scanning to make sure your employee's credentials aren't hacked
Staff Training We'll make sure they know what to open and not open
Don't waste time worrying about the security of your I.T. systems, network, and data.
Contact us at (701) 746-9234 or info@gfnetspec.com to learn more or schedule a free technology assessment.