Microsoft Office 365 is the most powerful and flexible office productivity tool set to hit the market in recent years.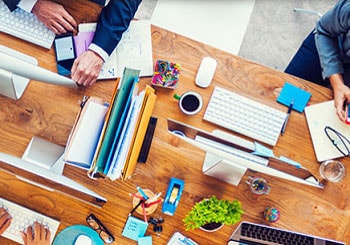 Why does this matter to your business?
Because with this powerful, cloud-based tool, companies like yours can expand their footprint and reach for goals that at one time seemed impossible to attain.
The introduction of Office 365 into the market and its overwhelming acceptance by companies across the spectrum of the economy signals an acceptance of cloud-based technologies as the road to the future.
Part of the way that Networking Specialists helps ensure the I.T. success of our clients is by providing implementation, advice, help desk support, and migration services for Office 365.
Isn't Office 365 just a subscription-based version of Microsoft Office?
Although Office 365 may include the tools we all use daily like Word, Excel, PowerPoint, Outlook Publisher, and OneNote — it's so much more…
Exchange Online – Microsoft's full-featured Email server with calendaring

Groups

–  a site for team collaboration and project management with a shared inbox, document library, calendar and even Yammer feeds.  Permissions are assigned at the group level for ease of use
OneDrive for Business – a place to store documents and files in the cloud.  You can share these documents with others by sending them a link

Skype for Business

– a video conferencing application that allows you to instant message, make audio and video calls, host online meetings and your own web conferences
Sharepoint Online – a website on steroids.  Sharepoint is the perfect place to store policy manuals, procedures, mileage documents and other items that your team members need to access.  It makes documents and other files searchable, so they are easy to find and allows sharing and collaboration on files.
Yammer – a texting application that allows you to create chat rooms, send private messages, and share information via text.
Office 365 – if properly implemented and supported – significantly increases your ability to get more done and be more profitable.
Give employees secure mobile access to documents, spreadsheets, and databases.
Easily scale up or down as needed.
Utilize Office 365 applications for their full compatibility and synchronization.
Communicate easily via voice, video, email, and instant chat within the Office 365 suite.
Wonder what the right Microsoft Office configuration is for your company?
Let us help!
We will consult with you regarding the right Office 365 configuration for your needs and will assist you in the migration from your current solution to the new, more efficient Microsoft Office 365.
Do you need granular backup and restore?
Does your company currently use Exchange, SharePoint, or Skype for Business?
We'll show you how these integrate seamlessly into the Office 365 platform.
Your productivity matters to us.
That's why we believe that a customized Office 365 configuration will strengthen your business.
Let's get started! Contact us at (701) 746-9234 or info@gfnetspec.com.